Tips to keep your Paytm account safe
Vishing
When fraudster tries to seek your confidential financial information like Card Number, CVV Number, Card expiry date, ATM PIN, Netbanking password, wallet password, Bank passcode, any type of One Time Password (OTP) or personal information like PAN, AADHAR etc. through a phone call, such a fraud attempt falls under the category of VISHING.
How does one commit it?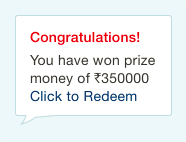 The fraudsters pose as callers from a renowned bank, e-commerce website or a company. They then congratulate the customers about the prize or lottery they have won and ask the customer for their details for reasons LIKE or identity verification, handling or shipping charges, taxes, etc. In these cases, gullible customers fall prey to them and share their details. Information so acquired is then used to conduct fraudulent transactions on the customer's account
Examples
How to save myself from vishing?
More Frauds

Phishing

Smshing

Impersonation

Money Mule
© Copyright , Paytm Payments Bank
© Copyright , Paytm Payments Bank