Safety and
Security
Beware of Dubious Schemes
Never respond to unsolicited offers of money received through emails/phone/other media*
No one really gives you money for free*
Be careful while investing in seemingly attractive schemes offering high returns*
Don't invest in unregulated companies/entities*
Don't rely on hearsay - Check for yourself*
High return means higher risk including potential loss of entire money - Check your risk-appetite!*
Take care of your money - it is hard to earn but easy to lose*
When in doubt check with a trusted financial advisor*
* For any clarification/details, visit www.rbi.org.in or www.sebi.gov.in or www.irda.gov.in

Do's
Protect the mobile phone via password.
Set a maximum incorrect password input limit.
Look for https while logging in the Bank website.
Employ a strong password for Login. E.g. Use special characters, numbers etc. in the password.
Update/change your passwords and passcode at regular intervals.
Verify transactions in account statements regularly.
Verify transaction communication received via SMS.
Use nomination facility.
Immediately intimate the Bank/Branch for:

Change in address/mobile number.
Erroneous/unauthorised transaction.
Loss of Debit Card/Demand Draft etc.

Report lost/stolen phone to service provider/police.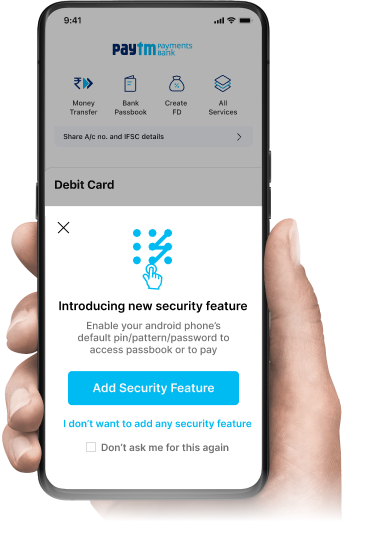 Don't
Never transfer funds without validation of recipient.
Never share the Login details/PIN/OTP/Transactions IDs/Passcode/Confidential information over phone/internet/hand over ATM Cards to third parties.
Do not store any sensitive information such as passcode, password, debit card details, etc. in a folder on phone/computer or on paper etc.
Never forget to intimate us for change in address/mobile number to avoid misdelivery of transaction communication.
Never click on embedded links from unknown sources on social networking sites / emails.
Employ caution on using Bluetooth in public places