RuPay Debit Card
Your Paytm Payments Bank account comes with a free
Digital Debit Card to make online payments.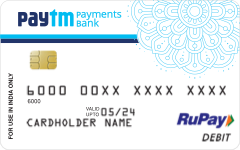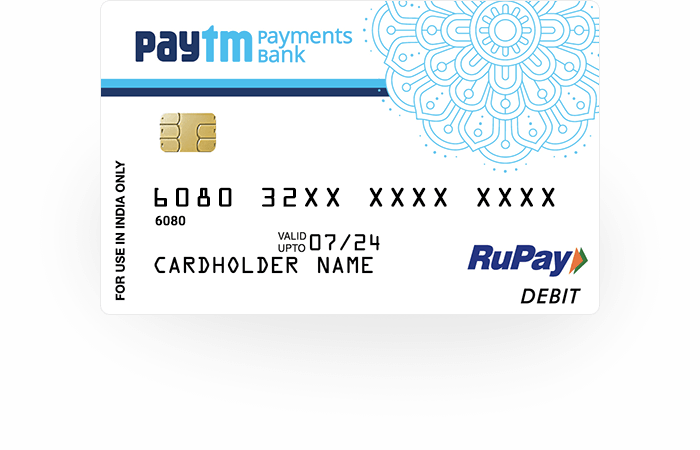 Benefits

Free insurance
Get free insurance cover of up to ₹2 lacs in the incident of death or permanent total disability. Detailed T&C.
Concierge Services
Complimentary access to concierge services . Domestic toll-free number -1800-26-RUPAY (78729).

Use QR code on your Debit Card to receive money instantly.
Issuance Fee & Withdrawal Limits
Digital Debit Card

Free

Debit & ATM Card

Issuance charge
₹250/-
Annual subscription fee
₹150/-

thereafter on yearly basis from the date of activation of the Debit & ATM card that is linked to your account

ATM daily cash withdrawal limit
₹25,000/-

(Including ₹5,000/- at Micro-ATMs)
ATM Transaction Charges
Metro ATMs: Mumbai, New Delhi, Chennai, Kolkata, Bengaluru and Hyderabad
3 free transactions every month; post that
Cash withdrawal: ₹20/txn
Mini statement, Balance check: ₹8/txn
Non-Metro ATMs: Other than the 6 cities mentioned above
5 free transactions every month; post that
Cash withdrawal: ₹20/txn
Mini statement, Balance check: ₹8/txn
Paytm Payments Bank ATMs:
Unlimited Free Transactions using Paytm Payments Bank Debit Card
Note: In cases where transactions have been done at both Metro and Non-Metro ATMs, customers are provided 5 free transactions in a month with a cap of 3 free transactions at metro ATMs
© Copyright , Paytm Payments Bank
© Copyright , Paytm Payments Bank