We will bring half-a-billion Indians
to mainstream economy.
No Fear
No Greed
No Entitlement
No fear
No greed.
No entitlement.

Payments Bank
Payments Banks are a new set of differentiated banks introduced by the Reserve Bank of India with the aim of extending deposit and payments services to millions of unbanked and underbanked Indians.
Savings Account

RuPay Debit Card

Money transfer services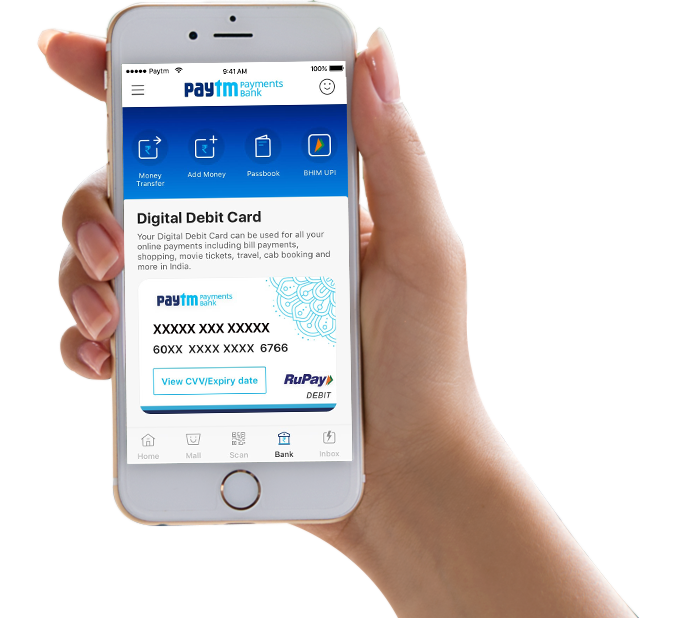 Board of Directors

Vijay Shekhar Sharma
Chairman
Vijay Shekhar Sharma is the Chairman in the Paytm Payments Bank.

He spearheads the Payment Bank's strategy and vision. A strong believer in emerging technologies, Vijay has played a major role in the evolution of mobile payments in India.

Having nurtured an entrepreneurial streak for over a decade, he has successfully built businesses in content, marketing, payment and online commerce. His next aim is to build India's first $100-billion company.

Renu Satti
CEO & Managing Director
Renu Satti is the CEO of the Paytm Payments Bank. She has served on the company's executive team overseeing emerging business sectors for the company. 

Renu joined Paytm's parent company One97 in 2006. Over her decade long association with Paytm and One97, she handled various critical business roles, driving strong growth in newly launched verticals and establishing set processes to build rapidly scalable business models.

PV Bhaskar
Independent Director
PV Bhaskar is an Independent Director of the Paytm Payments Bank.

P. Vijaya is a career central banker and retired as Executive Director of the Reserve Bank of India. Prior to his retirement, he was looking after Central Security Cell, Department of Banking Supervision and Department of Non-Banking Supervision. He has held several important positions at the RBI from 1981 to 2011 and has also functioned as the nominee director of RBI in a major public sector bank.

Ash Lilani
Independent Director
Ash Lilani is an Independent Director of the Paytm Paytments Bank.

Ash is the Managing Partner and co-founder of Saama Capital. He has been working with technology and venture capital for 25 years. He was an early pioneer of the Indian venture capital ecosystem and has been investing in India since 2003. 

Prior to Saama, Lilani served as the President of India and China markets for Silicon Valley Bank, and he founded and headed SVB Global. At Saama, he has led investments in companies such as Vistaar Finance, Shubham Housing and SKS MicroFinance.

G S Sundararajan
Independent Director
G S Sundararajan is an Independent Director of the Paytm Paytments Bank.

Sundararajan was till recently the Group Director of the Shriram Group. He joined Shriram Group as the Managing Director of Shriram Capital, the holding company of Shriram Group's financial services businesses. 

He has extensive experience in the Asian market and his understanding of the major countries and the business opportunities therein, led to Sanlam Emerging Markets inducting him into their Board in South Africa. He was responsible for leading the banking initiative for the group, which was one of the key value-enhancing forays into the near future for this financial conglomerate.
© Copyright 2017, Paytm Payments Bank
Noida Branch:

Working Hours :

10am - 4pm

Closed on :

2nd & 4th Saturday and every Sunday

ATM (will be available shortly)
© Copyright 2017, Paytm Payments Bank